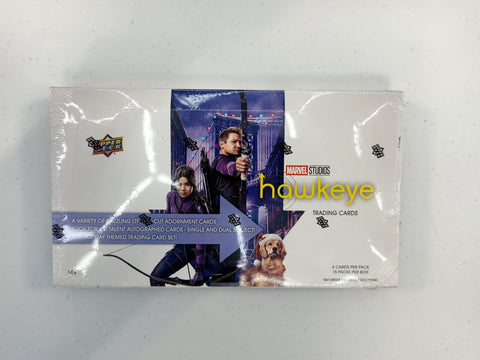 Aloha Card Shop
2023 Upper Deck Marvel Hawkeye Hobby Box
Take aim and hit your target with this excting and festive Marvel Studios Hawkeye entertainment trading card set. Celebrate the holidays with Kate Bishop and Clint Barton as they run around New York City on the search for who or whom is the true villian pulling all the strings. Collect colorful and impressively foiled cards with Adornments inserts. Look out for autographed parallels and other low numbered chase cards!
Product Breakdown:
Various Base Set and Character Parallel Cards: - Including #'d to 10 Purple Parallels
Fun Archery Themed Inserts: - Hitting The Target - Trick Shots - All Wrapped Up
Variety of Talent Autograph Cards Including: - Adornment Signatures - Holiday Sweater Autographs - Friend or Foe Dual Sigantures
Clear Acetate Cards: - Holiday Season - Tier 1-4
Chase Big Hits: - Die-Cut Hoilday Adornments - Metal Cards with Rare Autograph Version - Dual Autographs & Talent Inscription Cards - Low Serial #'d Parallels including 1-of-1 Printing Plates
Pack Hits: - [4] Base Set or Character Cards - [1] Base Set/Character Red Parallel - [1] Insert or Chase Card
Box Hits: - [1] Acetate Card - [1] #'d Card - [1] Additional Hit from the following: Autograph Card, Low #'d Parallel, Metal Card or Die-Cut Adornment
Configuration: 15 Packs per Box, 6 Cards per Pack
Product Highlights
15 Packs per Box, 6 Cards per Pack
1 Acetate Card per Box!
1 #'d Card per Box!
1 Additional Hit per Box!
Key Players
Alaqua Cox
Tony Dalton
Vera Farmiga
Fra Fee
Hailee Seinfeld
Jeremy Renner